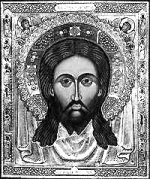 Lent Directory
Below you will find a list of Liturgies and Ideas for the Season of Lent
Donations are gratefully received if you find something useful.
.
.
Handbook for the Discipline of Lent
This helpful tool for Lent now includes the full text as I originally conceived it, not only with suggestions for prayer, works of love, fasting, and almsgiving, but also a Discipline of Lent worksheet and articles on "What is Lent?", "Making the Sign of the Cross," "Should I Go to Confession?", "How to Go to Confession" from the Small Catechism, "The Tradition of the Stations of the Cross," "The Triduum: The Three Sacred Days," and "Blessings over Food at Easter."
A Lenten Retreat: the History and Traditions of Lent
Bishop's Lenten Visitation (Chrism Mass)
with Blessing of Oil and Renewal of Ministry Vows
Lenten Midweek Service
Weekday service based on Ten Commandments
Litany on the Stations of the Cross
The Triduum: Maundy Thursday
(with footwashing)
The Triduum: Maundy Thursday
(without footwashing)
Private Meditations for Good Friday
Notes on the Easter Vigil
Stayed away from an Easter Vigil because of the "too long, dry and boring" critique? Consider these ideas to blow that critique away.
Six Stories for the Easter Vigil
Stories to make this section LIVE!
The Triduum: The Great Vigil of Easter
(without Baptism or Reception of New Members)
The Triduum: The Great Vigil of Easter
(with Baptism)
The Triduum: The Great Vigil of Easter
(with Reception of New Members)
The Triduum: The Great Vigil of Easter
(with Baptism and Reception of New Members)